New Book - Not at Peace with This Unfolding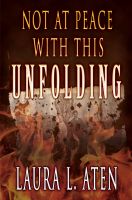 Looking for some mystery and drama this Spring Break in the form of easy reading? Be sure to check out Dr. Laura Aten's book,
Not at Peace with this Unfolding
. A brief summary of the story via Smashwords, where you can
obtain a digital copy (ebook) of the book ($7.99)
:
When a man dies in his Georgia home and is buried, it is reported in the obituary section of the local newspaper. When that same man is spotted in California four months later, it makes front page news nationwide. Such is the case in Not at Peace with this Unfolding. Yancey Riggs is an entrepreneurial farmer forging a life for himself and his young family in the 1920's South.
If you're in the San Antonio, Texas area, you can also pick up a signed copy of the book at this book signing event below:
Not at Peace with this Unfolding

by Dr. Laura Aten

ECHS Library

Tuesday, March 19th

4:30-6:30
I'm thrilled to have the opportunity to feature this announcement here, given that both Dr. Aten and I both work in the same school district! I encourage you to give the book a try, and know that I'll be reviewing it later this month here.
---
---
---
Everything posted on Miguel Guhlin's blogs/wikis are his personal opinion and do not necessarily represent the views of his employer(s) or its clients.
Read Full Disclosure