Source: http://goo.gl/vHoay
"We're implementing BYOD in our school," a close friend asked me recently. "What tips do you have for changing what's going on in the classroom?" Responding to that question has left me pondering for several weeks, asking myself, Do you really know what the heck you're talking about? This blog entry explores my less than expert thinking on the subject.
"Don't wait till you're good at it, you'll never do it" via

@kevinhoneycutt

#ulearn12
Will you help me out and let me know if you think I'm on the right track?
5 Keys to Successful BYOD Praxis: This session will introduce successful teaching and learning strategies employed by other BYOT educators, and introduce you to 5 key concepts that make BYOT easy.
Whenever someone says to me, there are some key concepts you have to consider, I like to ask myself, what doors need unlocking? I like the idea of opening the door, a concept Wes Fryer has explored in other blog entries and presentations, to new ideas and approaches. But what are the locked doors and what lies beyond them?
The Doors
The locked doors that keep us from connecting with each other include the following:
1) Device specific content - For too long, we've created content for delivery through one medium or another, whether that be paper-n-pencil, MS Office, etc. We need to find ways to make our content "device agnostic," so that it can be accessed by our students in ways that make it, not only more engaging, but more "sticky." You could spend a whole blog entry exploring how to "Make It Stick" according to Heath's 6 principles (e.g. Simple, Unexpected, Concrete, Credible, Emotional, Stories)
2) Require products from students that are the same old stuff they've been required to do all their lives. Somewhere, there is a list of old products, products that students have created for years, around which we've built those cherished rubrics and are passionately in love with.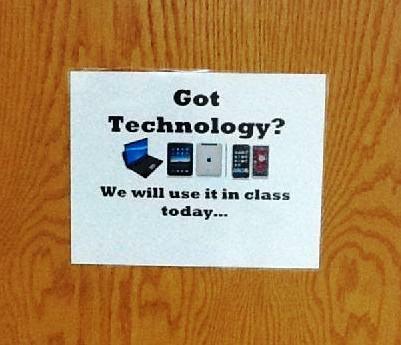 How many times have you walked into a classroom only to find that the extent of production in the classroom is something hanging on the wall? Or, a research paper? Or, a written explanation of a quadratic formula? In considering moving beyond device specific content, I suppose I'd ask, How easily can you turn this into a picture, a video/audio explanation that can enhance written content? Perhaps my experience has been shaped by the iPad, which makes expression in these formats mandatory because you can't easily share content off the device with others.
3) Make it hard for students to turn in their digital work from whatever device they're using.
Isn't this a locked, armored door with chains around it? Not only do we fail to innovate on the kinds of products our students are allowed to turn in, but we also won't let them turn it in from various devices. If you have a Linux computer with LibreOffice, you have to turn your slideshow in as a PPTx file. While LibreOffice can handle this, what about making it possible as a Prezi or VoiceThread or Flash movie (which LibreOffice also makes it easy to create)?
4) Don't take advantage of video/audio tools available to get content out there ahead of time for students to review.
Wow, you can probably guess what lies behind this door and why we have to get it open--and so many educators already have. It's not a matter of just a teacher being able to create content that video/audio formatted, but also to enable students to share ideas and have conversations about the content they are creating. We've got to accept that student to student conversations are where learning happens.
5) Try to manage 10+ different places where students are saving their content.
So, let's say you get all the other doors unlocked, but you still have content swirling from a million different sources and areas. You're creating content here, there, everywhere and so are your students. In an environment where everyone is creating on every device possible, how do you manage that? This is a door we have to unlock.
Ok, so those are the 5 doors. What are the keys that will open them, that will enable us to transform our praxis, our way of interacting with each other as learners? Here is a quick list of the key concepts:
Key Concept #1 - Digital Content Curator
"We've trained teachers over 3 years to manage, deliver, create, implement, and appropriate select digital content, resources, and 3rd party services to build on their TEKS and student needs." --a Texas School District
The idea of becoming a content curator wasn't that exciting for me when I first explored it. Do I really want to wade through tons of virtual garbage to find a few nuggets for my K-12 and adult learners? I have a life, I want to live free! But then, I realized that this is work I have to do anyways. I have to work on my own, through the miasma of muck, to find what is relevant, authentic, and worthwhile. Why not use the idea of content curation as a way to accomplish that?
To that end, I certainly recommend content curation and narrow in on two tools because they work so well on computers and mobile devices, although there are certainly plenty others to consider:
#1 - EverNote - http://www.evernote.com
If you haven't spent time with EverNote, then you are certainly missing out. This is the most fantastical wonderful tool to use, no matter what device you decide to use. I have occasion to access Evernote for everything from personal to work content, automagically sharing curated content (yes, I have a notebook category for curation) on a wide variety of topics such as BYOD, iPads, iPadApps, Infographics, my favorite images, and more. Each notebook has its own shared URL that doubles as an RSS feed fed through
Dlvr.it
which is auto-posted to my Twitter and Facebook feeds. Simply, EverNote makes organizing audio, text, still images easy no matter the device, and a straightforward matter to share with the world. And, I'm able to grab content from just about anywhere, including Zite, Flipbooks, web pages, Facebook, Twitter, wherever, whenever. Cost? Free.
#2 -
Diigo - http://www.diigo.com
Every year, Diigo gets better and better. Although I eschewed social bookmarking years ago, instead switching to Evernote because it facilitated clipping content from a wide variety of sources and, at the time, Diigo was still figuring out its pricing model for educators (which is quite nice these days), Diigo remains for some the ultimate tool for curating and sharing content.
And, for iPads, you certainly might consider
doing some of your curation via the browser. But before you do that,
read this comparison of the best sharing iPad browsers
!
Key Concept #2 - Differentiating Product Creation
Differentiation didn't really appeal to me until I understood the possibilities were endless with Web 2.0 (a.k.a. Read/Write Web) tools. Differentiation of products--granting students multiple options for expressing what they know--using technology has pretty much exploded! There are tons of ways to differentiate products, which is one of the reasons folks like iPad/iPhone apps...every new app makes a different way of sharing possible.
One of my colleagues, Stephanie Ratliff, put it to me in this way:
The key to a differentiated classroom is that all students are regularly offered CHOICES and students are matched with tasks compatible with their individual learner profiles.

Curriculum should be differentiated in three areas:




Content: Multiple options for taking in information
Process: Multiple options for making sense of the ideas

Product: Multiple options for expressing what they know
We could easily spend an entire blog entry on any one of these--content, process or product--but it doesn't take a rocket scientist to know that one of the easiest ways to differentiate content and/or product is to make it available in a variety of multimedia formats.
To explore various multimedia formats, you have only to ask the following 3 questions (Source: Literacy Beat):
What tools do my students know or might they learn to use?

What digital technologies can students bring with them to school to assist in their learning?

Will the digital technologies that are part of the options for students really improve their learning relative to standards, objectives, and intended learning results?
For students, photo/video/audio are three possible input sources, but depending on the type of device you have access to, you can try different things. There are many apps that will allow your students to take advantage of these 3 sources of media and do fantastic things with them.
It's the third question that often causes the consternation. How can the digital technologies students bring with them to school really improve their learning relative to what they're "supposed to learn in school?" That's the question that goes to the heart of the matter. How well technology is received in schools comes from how teachers create knowledge work for students to do in their classrooms, as well as what work students create for each other.




A quick search of examples for differentiated products with technology (please suggest others) appear below:
Key Concept #3 - Setup a Digital Locker for Your Classroom
With cloud storage everywhere, you would think it'd be easy to setup a digital locker for your students. And, there are several vendors out there who would be glad to help you with this. But the idea of a digital locker is less about locking content up, and more about making it easy to share information with each other while it's in flux. Perhaps a better way of thinking about it might be to view this as a cooking board, where a meal is prepared, portions being sliced and diced, sorted, sequenced, prepared for inclusion in a dish that will bring all the pieces together.
There are many ways to setup an online storage area for your classroom. One of the easiest is to use GoogleApps for Education, which comes with its own "GoogleDrive," a hard drive that you and your students can use to share documents, videos, audio, and a variety of files. It works with most mobile devices. I'm sure others are already using places like Dropbox.com and Box.com, or even setting up their own OwnCloud.org solution. Whatever that solution is, make sure that it's easy to support product creation and sharing, recompiling, and more. For these, sharing is key.
Key Concept #4 - Flip Your Classroom
By now, we're all familiar with the idea of the flipped classroom and probably have an opinion about it. The Flipped Classroom model is the shifting of the classroom paradigm, so that lectures can be seen at home, while homework activities are done in class. This is to allow more time for applying the knowledge and receiving more personal help from the educator. (Source: 3 Tips on Flipping Your Classroom and Infrastructure of What Is).
In case you're not familiar with the flipping your classroom process, here's one approach adapted from Dr. Mazur:
Dr. Mazur has a video describing his integrated Flipped Learning and Peer Instruction methods, but the major points are:
Students prepare for class by watching video, listening to podcasts, reading articles, or contemplating questions that access their prior knowledge.

After accessing this content, students are asked to reflect upon what they have learned and organize questions and areas of confusion.

Students then log in to a Facebook-like social tool, where they post their questions.

The instructor sorts through these questions prior to class, organizes them, and develops class material and scenarios that address the various areas of confusion. The instructor does not prepare to teach material that the class already understands.

In class, the instructor uses a Socratic method of teaching, where questions and problems are posed and students work together to answer the questions or solve the problems. The role of the instructor is to listen to conversations and engage with individuals and groups as needed.
To get started with Flipping Your Classroom, here are
3 Tips that may be helpful:
Record video/audio/screencasts and make those available to students, even when they are not connected to the Internet. Encourage students to record videos about lessons and concepts then to share those with you prior to inclusion in a class GoogleSites wiki.

My

top 3 favorite tools

include the following:

BB Flashback Express (Windows only) for longer than 5 minute videos.
Record Your Desktop (UbuntuLinux) for unlimited video recording. You'd be surprised how often I find myself using this one!
SnagIt ($29.95) (cost of license for educators includes BOTH the Mac and Windows version!).

Use a tool like Evernote or Diigo--that work on mobile devices--to facilitate note-taking, turning in assignments, and information sharing.
Use Technology like Edmodo to make it easy to facilitate conversations about content.
Set up a YouTube channel for your lessons that students can access from home (although be aware they won't be able to see it at school...for that, you'll need a shared GoogleDrive folder).
Key Concept #5 - Embrace Edmodo.com as Your Classroom and Social Hub
Finally, you can't BYOT unless you have ONE place to share content, to bring it all together. Edmodo.com can be that ONE place to bring content together. You can also use Schoology, Moodle, Blackboard, etc. But you MUST HAVE one place to bring all the content together, a place that will serve as your hub for sharing. One of the neat features from most tools is that you can share your updates via an RSS feed that people can subscribe to.
---
Get Blog Updates via Email!
---
---
Everything posted on Miguel Guhlin's blogs/wikis are his personal opinion and do not necessarily represent the views of his employer(s) or its clients. Read Full Disclosure