Only What You Have Given Endures
Another oldy but goody (at least, I think so):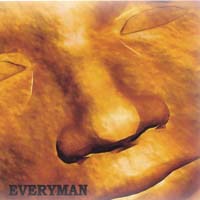 The concept of everyman always attracted me in college English class. It was part of my British literature class (1 or 2, I don't remember) and something just stuck with me. I hadn't thought about it until recently with the discussions about blogging, blog stats, and why we blog. Perhaps, it's just better to "be" a blogger than it is to study the phenomena too closely. I like to read fiction, not write it.
Here's a
quick reminder of Everyman
in case you've forgotten:
Everyman, a short play of some 900 lines, portrays a complacent Everyman who is informed by Death of his approaching end...The play makes its grim point that we can take with us from this world nothing that we have received, only what we have given.
This seems so much like blogging...we can take with us from this world nothing that we have received, only what we have given. The more we give, the better. This means that as experts, we become repositories of learning, recipients of the wealth of many minds. But what we have to give, what we have to offer is even more important. As a writer, I honestly don't remember what I've written/given after it's done. The act of writing leaves me empty...now, with so much out there, I honestly don't remember what the heck I've written. I have to go back and read it again. The technologist is always at his best when he is beginning to understand something. This is reinforced by descriptions like this:
The idea is that people who are less knowledgable about a subject very much should be a primary actor in the authoring of the text. Not the sole actor- you need experienced people to perform correction, offer up alternative explanations, to make sure that it's not wrong. But I think that beginners have unique advantages in teaching other beginners. Reasons: They understand their own misunderstandings. They have strong empathy with other learners, because they are at the same place, or just a single step beyond. The beginner is motivated by the need to make their understanding more concrete.
Source: Learn Online
If you've lost that blogging feeling, maybe it's time to remember that you have only to cast yourself as a beginner again to rediscover the joy of blogging...rediscover that it in the giving, not the receiving, that one may find excitement. Don't be afraid to go off the beaten path...in fact, you're expected to...don't follow the herd, find your own way.
There once was an Indian medicine man who made hunting maps for his tribe. When game got sparse, he'd put a piece of fresh leather in the sun to dry. Then he'd say a few prayers, fold and twist it, and then smooth it out. The rawhide was now etched with lines. He marked some reference points, and a new map was created. When the hunters followed the map's newly defined trails, they usually discovered abundant game.

Moral: By letting the rawhide's random folds represent trails, he pointed the hunters to places they had not looked.
Source: Creative Think
Can you
find knowledge in unlikely places
, just like a beginner would, and then give that knowledge away? Can you
put aside the list of edubloggers
that everyone links to, and
find new voices
?
---
Subscribe to Around the Corner-MGuhlin.org
---
Everything posted on Miguel Guhlin's blogs/wikis are his personal opinion and do not necessarily represent the views of his employer(s) or its clients.
Read Full Disclosure